"I get my smile noticed with a sparkling! I like the settle but noticeable look. It looks super classy but sassy. I have all my friends doing it even my mom." – Casey
Tooth jewelry (tooth bling, tooth gems)
YOU ASKED FOR IT, SO WE GOT IT GANGSTAS…
Add Sparkle and Style to your Smile…Swarovski Tooth Jewels are simple, subtle and shimmering! Swarovski® is considered to produce the finest precision-cut crystals in the world. Their crystals are polished to the highest standards of quality and sparkle like diamonds.
Our tooth jewelry is made by Genuine Swarovski Crystals that are small in diameter and applied to the tooth using safe dental materials. Our application requires no drilling and no holes. It is completely painless, will not harm the tooth, and can be easily removed. It is perfect for those who want a bit of glamour and fun! They are truly chic, yet elegant. We also offer gold and diamond jewels as well as different shapes, colors & size 2mm & up
What's the procedure like
The tooth gems are fairly straightforward. You shouldn't experience any pain before or after the jewel is placed
Tooth prep. Before the procedure, your tooth enamel will be cleaned and etch prepped
Composite application. A bonding agent and a composite (a resin material made for teeth) will then be applied to the area where your jewelry will be placed. This same process used by dentists to adhere orthodontic braces to the teeth.
Jewelry placement. Next, we will use instruments to secure the jewelry into the composite.
Setting. A special lamp cures (hardens) the composite. It only takes about 20 to 60 seconds or so for the jewel to set into the composite.
Can everyone get tooth gems
NO! People who do not have healthy teeth should not get tooth gems. We only do tooth gems on those who see a dentist annually and whose teeth are in good health.
How are tooth gems removed
Only a dental professional can remove the gem or bonding by polishing your tooth either at your checkup or a separate appointment.
What if my gem falls off
We can only apply a new one AFTER your dentist polishes off any remaining adhesive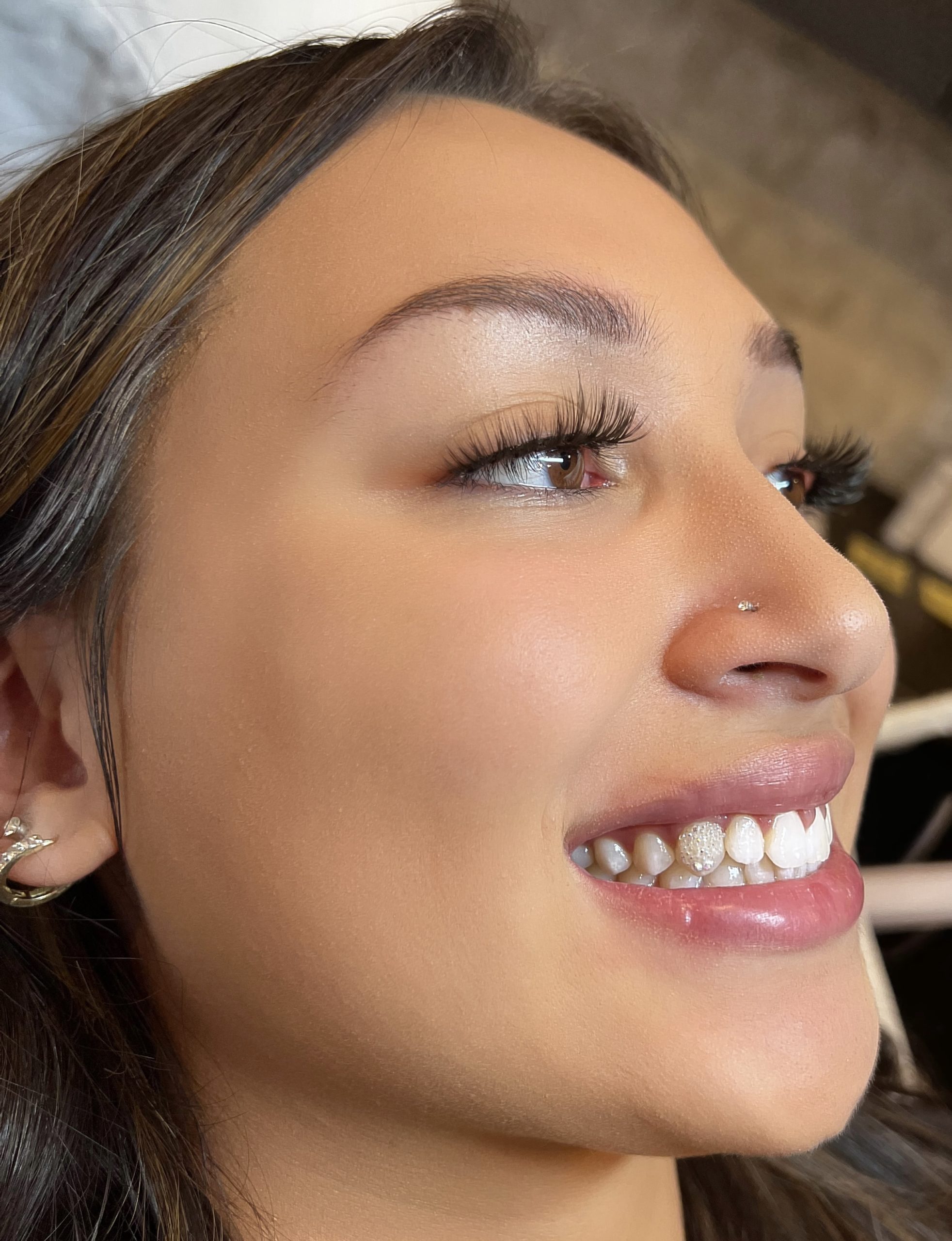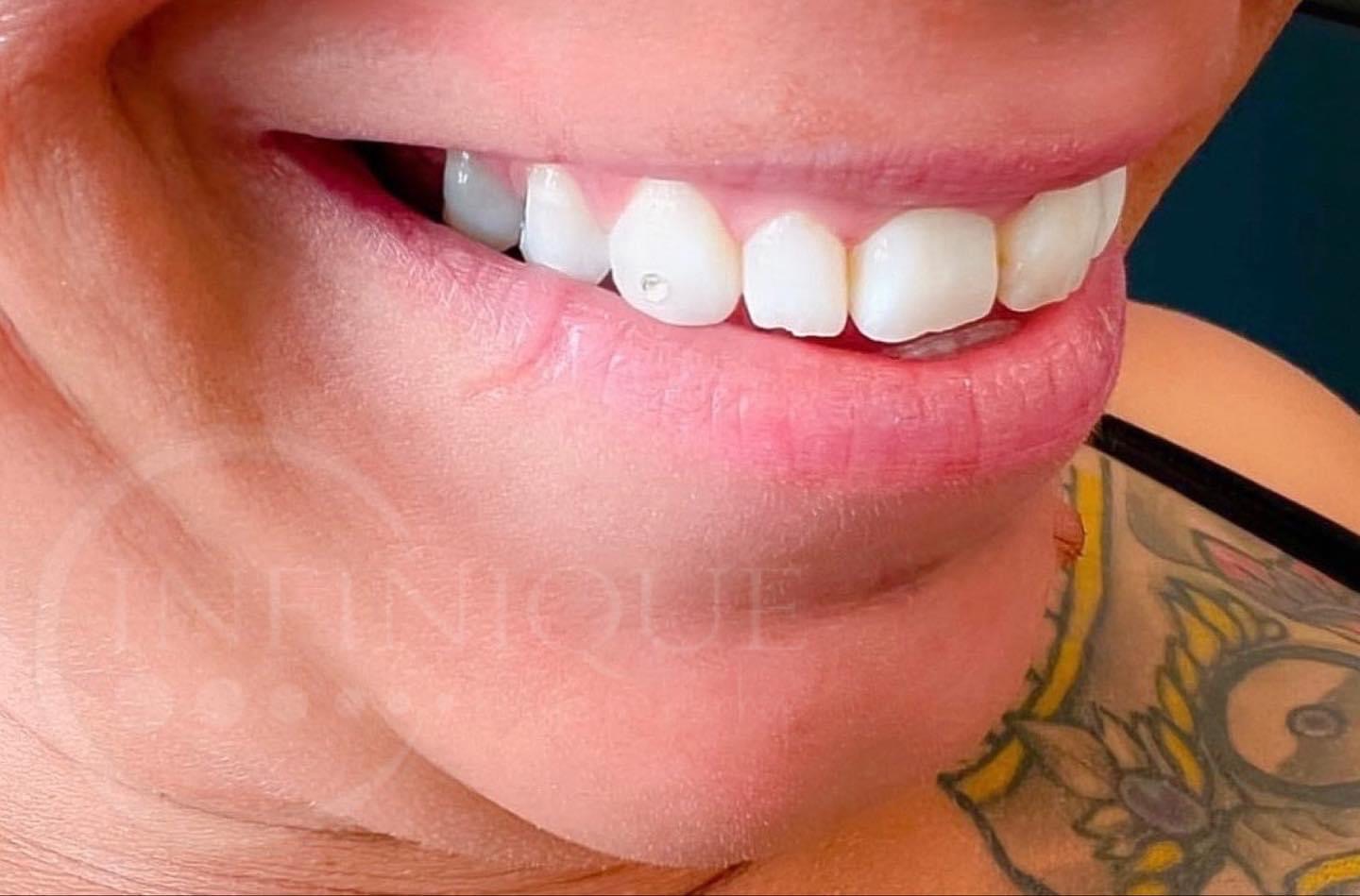 Simple facts about tooth jewelry
It is non-invasive and painless
Requires no extra maintenance
Can be removed or replaced anytime has no effect on the tooth enamel once the jewel is removed or replaced
Involves a procedure that only takes about 15 minutes and is 100% reversible.
It is stain resistant
Does not obstruct regular brushing even if using an electric toothbrush nor restrict you from visiting your dentist or dental hygienist
You can have a jewel applied as a temporary enhancement which will last from 1- 6 weeks or a semi-permanent which will stay on until you decide to have it removed
It's recommended that only people with a healthy mouth and good oral hygiene habits should consider the procedure
It's important to have dental check-ups every 6 months to make sure the jewelry is not damaging your teeth or gums
Aftercare
We will send you home with aftercare instructions.
How much
$50 – 1 Gem
$70 – 2 Gem
$10 – Each additional
$90 – Buttery
$120 – Chandelier | Fairy Dust
"Specialty Gems" available to order at clients expense before appointment must be Swarovski only


$50 – Own gem bonding charge